どうやら、欠陥エアコンらしく、マイコンが、正常動作しない。
メーカーには、カタログさえもなく、専属パーツショップにも、このリモコンは、数百種類の型番にもない。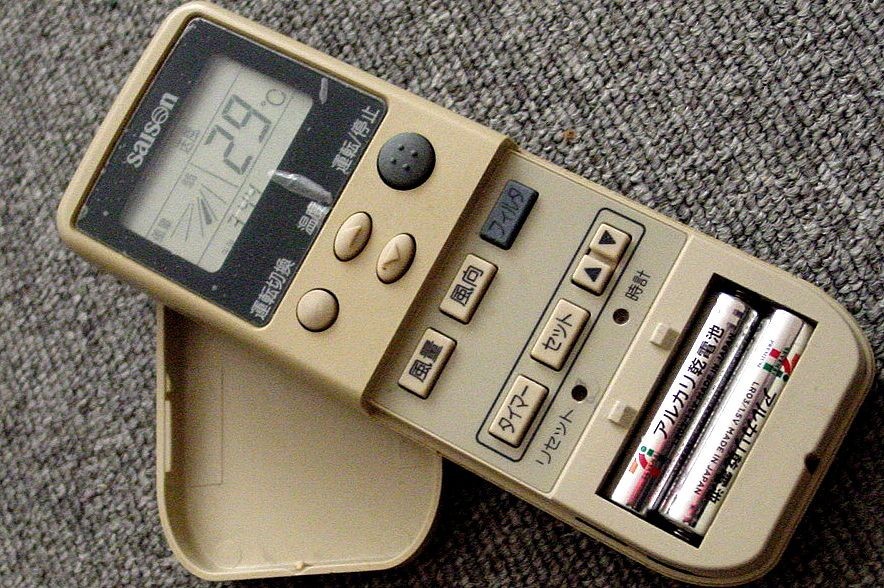 Yesterday, the air conditioner suddenly stopped · The battery of the remote control dropped? So, for the time being, restart power supply of air conditioner. Replace the remote control batteries, start up ... But will it stop halfway? It is necessary to reset the remote control when looking at the net. With this, the air conditioner worked all night. · · · However, air conditioning stop around 10 o'clock? It blinks, it's a failure other than remote control.
This is bad. It is impossible to repair the air conditioner during this heat wave.
Furthermore, the air conditioner will bear the burden of .... With no more air conditioning, this is the only way to move only the blow.
Anyway, the restart air conditioner ... It's moving a bit, how many minutes will it have to run? In addition, searching for this model on the net · Information shot on the side of the model · Shot with digital camera · Enlarge with PC, Search ... does not come out at all?
This may be an ancient rare species before the catalog. Although it may be understood by listening on the phone, it is waste of time to search the net anywhere because it is the same. As it is, air conditioning 5 minutes? It seems that there is no choice but to repeat blowing 30 minutes and overcome the summer.
How to break? , · · · · · · · · · · · · · "It is possible to think of abnormality of sensor etc and board failure" · It is powerful. Is not it liquid leakage of the capacitor = on the board? A brown liquid comes out under the louver and the flashing lamp ... .... It is a capacitor, is not it? So, within 30 minutes, it will stop with thermal runaway .... Even on a personal computer, if the capacitors near the CPU or the power supply bulge, it will not be energized. Since the air conditioner is a miscellaneous microcomputer, it is supposed to be heavily used around the China capacitor. For the time being, the outdoor unit is moving ... Because of microcomputer breakdown of the indoor unit, air conditioning 10 minutes ... · 30 minutes of air blowing, repeat the summer?